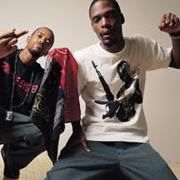 dead prez is the pair of underground alternative rappers stic.man and M-1. They have become known largely for their hard-hitting style and politically active lyrics, focusing on racism, critical pedagogy, activism against governmental hypocrisy, and corporate control over the media, especially hip-hop record labels. dead prez made their stance clear on their first album, declaring on the lead song, "I'm A African" that the group is "somewhere between N.W.A. and P.E.".
In 1990, M-1 headed to Tallahassee to attend FAMU (Florida Agricultural and Mechanical University) where he and stic.man met and connected due to their mutual love of music and knowledge. "I was soaking up the Black Panther Party as a whole," M-1 remembers. "I learned about their lives and it helped mold me."
"I realized there's a struggle already going on and I have to try to help ride it out," interjects stic.man. M-1's quest for insight led him to join the International Democratic People's Uhuru Movement (InPDUM) in Chicago for three years while stic.man remained behind in Florida and started getting into trouble. Burned out by the arduous labor of Uhuru, M-1 decided it was time to focus on music and stic.man agreed.
Dead prez transcribed the political education they acquired into lyrical poetry. Brand Nubian's Lord Jamar discovered them in New York and helped them sign a deal with Loud Records. But being the new kids of the block on a powerhouse label like Loud (home to the Wu-Tang Clan and Mobb Deep) wasn't easy. dead prez wasn't always Loud's top priority but that didn't stop them from building a fan base around their over-the-top performances (they've been known to ignite dollar bills and toss apples into the audiences, declaring that they must eat healthily).
Their debut album was 2000's Let's Get Free, which featured a minor hit with the song "Hip Hop" from the year before. The album was critically well-received, and included intense political diatribes featuring prominent black activist Omali Yeshitela, as well as "Animal in Man" - a retelling of George Orwell's Animal Farm. The instrumental version of their song "Hip Hop" was used as Dave Chappelle's entrance music for his show on Comedy Central, and can be heard on every episode. In 2001 they collaborated with The Coup, another politically active hip-hop outfit, to release Get Up. In 2002, dead prez released the independent mix tape Turn off the Radio: The Mixtape Vol. 1, followed by the release of Turn off the Radio: The Mixtape Vol. 2: Get Free or Die Tryin' in 2003. In 2004, Columbia Records finally released Revolutionary But Gangsta. They were featured performers on the film Dave Chappelle's Block Party, released in 2006. In 2006, they and former 2Pac collaborators the Outlawz will jointly release an album titled Can't Sell Dope Forever.
Some of dead prez's fan base have accused them of giving up on their revolutionary aspects, in exchange for their 'Gangsta' side after Revolutionary But Gangsta was released, while others say the group has begun to emphasize their black nationalism (especially in the Turn Off the Radio mixtapes) over their original views of radical socialism, and that this is alienating to previous fans of their work. It is worth noting that cultural nationalism of the sort evident in many of dead prez's songs was heavily criticized by the Black Panthers (which dead prez also claims to uphold), as was described in Panther Bobby Seale's Seize the Time, in which Seale describes Panther Minister of Defense Huey Newton's condemnation of the "jive-ass cultural nationalism" of Kwanzaa founder Ron Karenga. Even still, other fans insist that the revolutionary lyrics are still prominent.
Critics also accuse the group of lifestylism, the practice of adopting superficial attributes of a revolutionary culture while doing little or nothing to objectively advance revolution. They point to lyrics such as those in the song "Hell Yeah," which advocate a method of identity theft in which one person applies for and receives credentials under the name of a friend and then adds charges to a credit card linked to these credentials, as by a bank account. The description evinces a lack of actual experience with credit card fraud, since typically in such a case the friend would be held accountable for the resultant charges, resulting in substantial debt and/or damage to his credit. Lyrics such as these indicate to critics that the members of dead prez are not, in fact, professional criminals, but merely posture as such.
from
wikipedia.org